When the announcement was made earlier this month, it was met with outrage from residents of New Orleans' oldest neighborhood, and understandably so.
After all, if Homer A. Plessy Community School were indeed evicted from its 91-year-old, three-story masonry home at 721 St. Philip St. — a decision made for space and expense concerns, per the New Orleans public school system — the French Quarter would be without a school for the first time since the 1720s.
To many, it was a strike at the heart of the neighborhood's very neighborhoodness, just one more step toward the full transformation of the Quarter from vibrant, living community into a tourist playground.
In the face of outcry, the school system relented, announcing a week later that it would reconsider its decision and that Plessy would remain in the building "for now."
A notable location
It was a welcome reprieve for a storied property that is very much tied to the city's history. Before it was a schoolhouse, it was occupied by a theater linked to one of the city's more persistent racial myths. Over the years, the site has also hosted both European royalty and rock-'n'-roll royalty.
To tell its full story, we'll have to wind the clock back to 1808, which is when — after passing through a number of hands — the property was cleared by the French-born Bernard Coquet to make way for "La Salle de Spectacle de La Rue St. Phillipe," aka the St. Philip Street Theater.
By then, Coquet had made a name for himself hosting "tri-color balls" at his French Quarter home, so named because they welcomed slaves, free people of color and White people, according to Kenneth Aslakson in his 2011 journal article "The 'Quadroon-Plaçage' Myth of Antebellum New Orleans."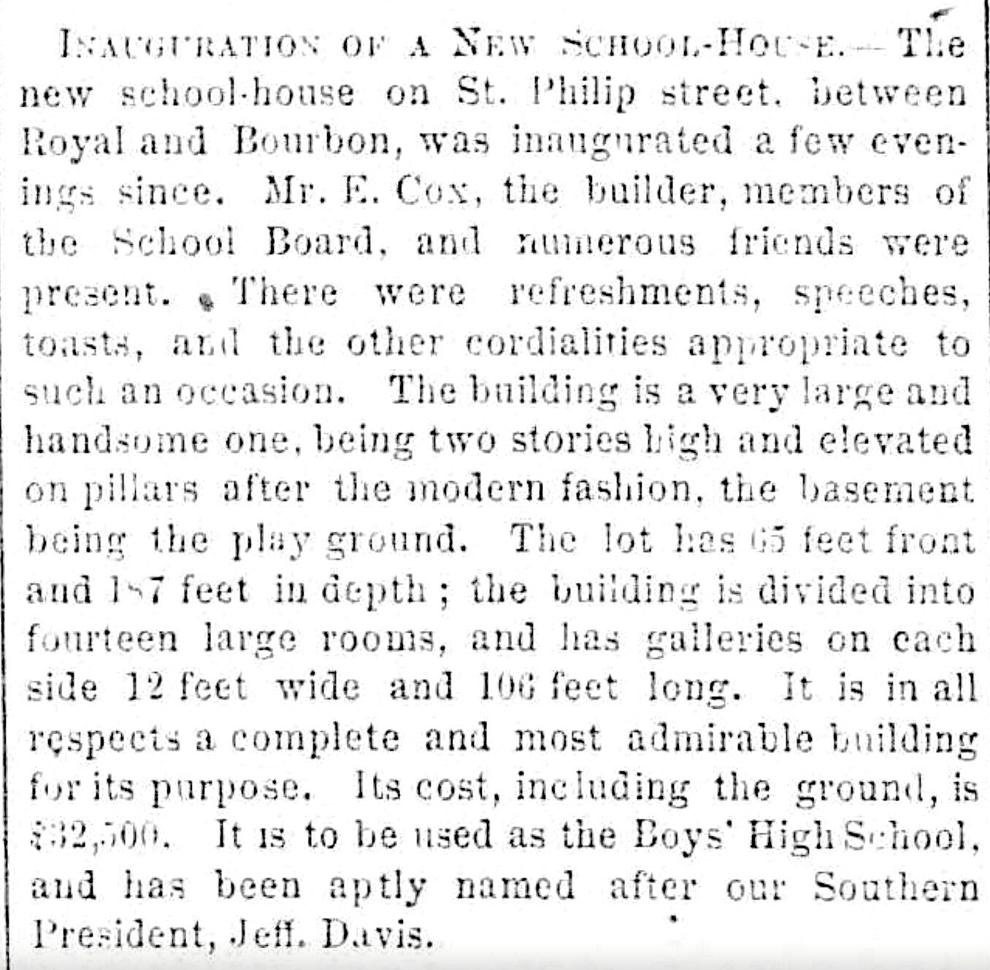 As that title suggests, recent scholarship questions much of the lore attached to quadroon balls, at which women of color were said to have shopped their daughters to wealthy White men to keep as mistresses. Yet, as Aslakson writes, the existence of Coquet's tri-color balls suggests intimate relationships between White men and women of color were much more accepted in New Orleans than elsewhere.
Those relationships, however, bore little resemblance to those of legend, which is drawn largely from the accounts of two dozen or so mostly well-heeled European visitors to New Orleans.
"The balls were not meeting places for plaçage relationships, mothers did not bargain away their daughters, very few of the men could be considered 'wealthy gentlemen,' and many of the relationships were long-lasting," Aslakson writes.
Bigger and better
The popularity of such balls prompted Coquet to buy the property at 721 St. Philip and contract architect Arsène Lacarrière Latour to design him a new, two-story theater so he could host even bigger, better events.
His new St. Philip Street Theater, completed around 1810, was large enough to hold 700 souls and hosted both stage performances and balls.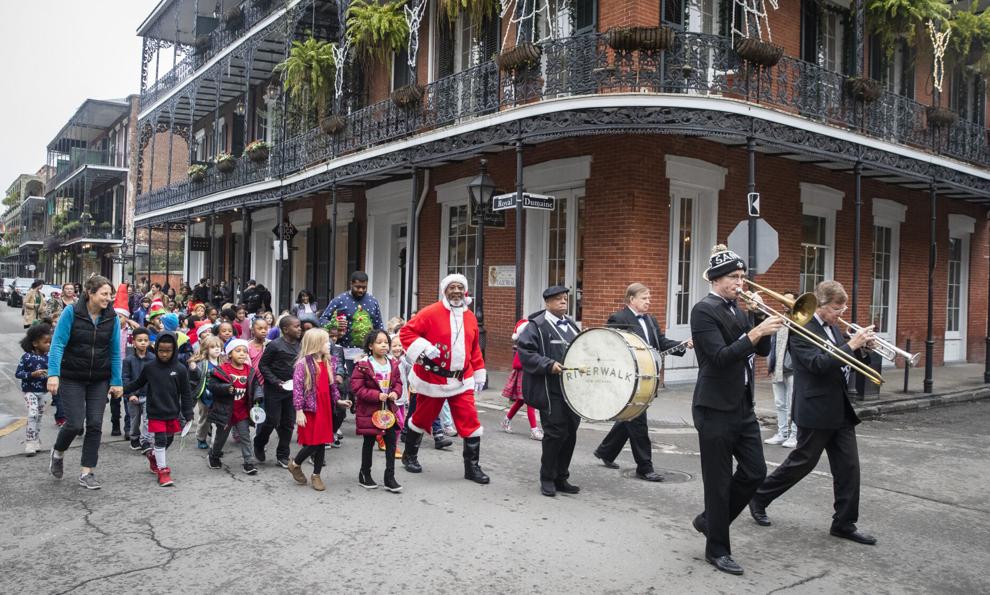 Among those to attend a ball there was genuine European royalty, Prince Carl Bernhard, the Duke of Saxe-Weimar-Eisenach. He was less than enchanted by the experience.
"The whole aspect was that of a den of ruffians," His Snootiness wrote in 1826. "I did not remain here a half hour, and learned next day that I was judicious in going home early, as later, battle with canes and dirks had taken place. Twenty persons were more or less dangerously wounded!"
The theater would change names over the years, including operating as the Washington Ballroom, but by the dawn of the Civil War, New Orleans' ballroom scene had cooled considerably. And, so, by the summer of 1861, the old theater was razed to make room for a school.
A shiny new school
"The (school) building is a very large and handsome one, being two stories high and elevated on pillars after the modern fashion, the basement being the playground," read an article in The Daily Crescent.
It went on to note that the new schoolhouse, constructed by E. Cox, consisted of 14 large rooms and boasted 12-foot-wide galleries on each side.
St. Philip School operated there for seven decades — until, in 1931, the facility was deemed obsolete and plans were put in place to replace it with a new, modern schoolhouse.
On May 22, 1931, The Times-Picayune describes a scene in which schoolchildren were led out of one side of the building at the same time a demolition team armed with sledgehammers marched in the other side. The building fell quickly.
Less than a year later, on March 31, 1932, the new McDonogh No. 15 opened on the site, welcoming a blended student body of pupils from the old McDonogh 15 and St. Philip School.
Designed by longtime school system architect E.A. Christy and constructed by R.P. Farnsworth, the building — painted a bright red from its first day — included 23 rooms and cost $125,400 (or $2.7 million in 2023).
Elvis was in the house
It's that school that a 23-year-old Elvis Presley attended in 1958's New Orleans-shot "King Creole," portraying a 19-year-old high school student. If you stand in the short school driveway just off the corner of Royal and St. Philip, you're standing in the footsteps of rock-'n'-roll royalty, as seen at the film's 13:20 mark.
In late 2017, the student body of McDonogh 15 — which had been operated as a charter school post-Katrina — moved to a new site on Grant Street. At the same time, the school was renamed in honor of former Mayor Ernest N. "Dutch" Morial.
By 2018, the arts-focused public charter school Homer A. Plessy Community School, named for he of Plessy vs. Ferguson fame, had moved into the "little red schoolhouse" on St. Phillip Street. It still operates there today, teaching kindergarteners through fourth graders.
"For now."
Know of a New Orleans building worth profiling in this column, or just curious about one? Contact Mike Scott at moviegoermike@gmail.com.
Sources: The Times-Picayune archives; Historic New Orleans Collection's Collins C. Diboll Vieux Carré Digital Survey; "The 'Quadroon-Placage' Myth of Aantebellum New Orleans," by Kenneth Aslakson; "Travels through North America during the years 1825 and 1826," by Bernhard, Duke of Saxe-Weimar Eisenach.
The tale of dazzling art deco General Laundry building, finally named a New Orleans historic landmark
Last week in this space, we chronicled the history of New Orleans' famous Napoleon House, that building at Chartres and St. Louis streets that…