When former Manchester United defender Tom Thorpe suffered the latest debilitating setback in a career that stalled for five years because of serious mental health issues, he could have been forgiven for slipping into another damaging downward spiral.
Thorpe, now 30, captained United's FA Youth Cup-winning side in 2011 that included Paul Pogba, Jesse Lingard and Ravel Morrison, but was released in 2015 and ended up at Indian Super League club ATK.
He returned to the UK for treatment on an injury and never went back. For five years, Thorpe says he did not do anything. He was suffering from severe depression.
"I was at rock bottom," he said.
Last week, Thorpe was one of seven former United players at the Carrington training ground taking part in the club's new Alumni programme – a series of training sessions and workshops aimed at keeping them fit as they attempt to secure new contracts, and also offering ideas for potential career paths after retiring from playing.
As it turned out, Thorpe could not even train after recently rupturing his anterior cruciate ligament (ACL) playing for Northern Premier League side Stalybridge Celtic.
It meant he was watching from the sidelines along with 24-year-old Callum Gribbin, who was tipped to be the 'new Ryan Giggs' during his time at United.
Gribbin too suffered an ACL injury in March playing for FC United of Manchester, also of the Northern Premier League.
However, speaking to BBC Sport from the sidelines, Thorpe was positive about the programme and his future.
"It's good to be able to speak to people who have had similar experiences and be able to help them as and when you can," said Thorpe. "I've been picking Callum's brains about the road ahead."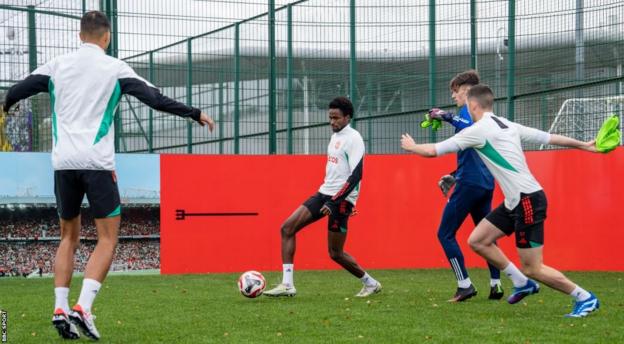 United's head of academy Nick Cox says the club has proactively identified about 225 players who fit the criteria of having left United since 2012, having been registered for five years or more, and with the club past the age of 15.
Each player has their own journey – the first group also contained Ro-Shaun Williams and Matt Olosunde, who were most recently at Shrewsbury and Preston respectively and are looking for new clubs.
Few will have a tale as harrowing as Thorpe's.
"There are a lot of opposites in depression," he says. "It's difficult to put into words without having some experience of your own to grasp. You don't want to be lonely but you want to be on your own.
"When you hear the phrase 'you can see light at the end of the tunnel', the response of human nature is if you see the light you keep going. With depression, there is no light. There's nothing. It's a case of complete shutdown.
"Apart from my parents and, eventually, my girlfriend, no-one knew. I'd go to family occasions and put on this mask. As soon as I got home it would be a case of mask off and shut down, don't speak to anyone or do anything."
Thorpe has been working with the Sporting Chance charity to combat his own issues and has made it his mission to help others.
The proactive element of United's Alumni programme is, he believes, essential.
"It's good to have the support of people reaching out to you," he said.
"From personal experience, I know when you've got depression it's very hard in that moment to go and ask someone for help.
"It's difficult when you think about the amount of players who go through an academy, but if there is a way of touching base with someone who has left or who is perhaps struggling to find a club to ask how they're getting on, it's such a big thing."
'Football clubs have been beaten up for too long'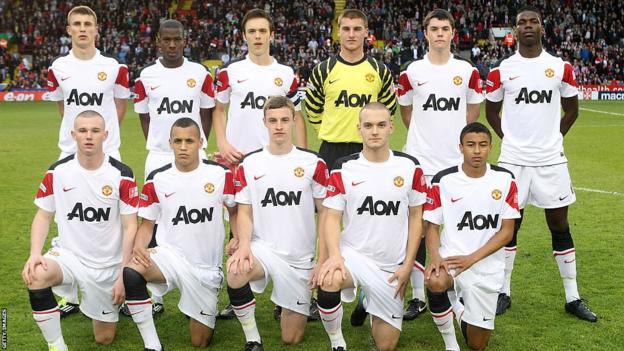 While many clubs find ways of keeping in touch with past players, Cox believes United's programme, which they want to improve through feedback, is unique.
He says it is also an example of clubs moving into a different space when it comes to the duty of care they have for youngsters.
Cox is adamant United do not push the "dream" of becoming a world star, preferring instead to drive home the message to young players and their families and carers about "the amazing amount of personal growth and the wonderful experiences you can have in your pursuit of excellence", knowing only a very small percentage will play in the Premier League.
Yet, he acknowledges, disappointment at being released is inevitable.
In 2021, the father of Jeremy Wisten told an inquest into his son's suicide he did not feel Manchester City had provided the "right support" following his release a year earlier.
"When you work with young people in football you have a great responsibility to continually look at the way you behave to make sure you are doing everything in your power to care for them appropriately," said Cox.
"Various sports have let young people down, I accept that, but my general reflections after 23 years in academy football are that a very small number of boys have a bad time.
"Football clubs have been beaten up for too long. There is so much to be celebrated.
"I have seen young boys get on aeroplanes for the first time. I have seen young boys who have eaten meals around dining tables for the first time. I have seen in recent months a young boy who lost his sister, and the first place he felt safe was to come to football.
"I have seen boys who have lost their parents and the place they have come to escape the pain is the football club.
"The experiences most young people are having in football clubs is second to none."
For information and support around issues raised in this article visit BBC Action Line