International business law student Mauk Bresser has a rental home shared with 20 others and a study debt of €45,000. But when this 23-year-old Leiden student looks to the future, he feels trapped: like a whole generation, he has few housing choices.
"Everyone has the basic right to have a clean and safe place to live but for us as a generation, it feels like everyone is stuck," he says. "Older people can can't move on to a smaller house, first time buyers can't move on out of their first home and people who want to be first time buyers can't get on the ladder because the starters are still there. Everything is locked down."
Bresser, chair of youth wing of the VVD, sees a vicious spiral where the Dutch government only intervenes to distort the market. In a recent opinion piece, he and Pim Tolmeijer argued to scrap incentives for house buyers like mortgage interest relief. "The system operates against freedom of choice," he said. "People have an interest in keeping the prices as high as possible because then their houses are worth more, they can deduct more, they make more of a profit. The prices are driven up and we can't pay them."
Young people are the most obviously affected group in the Dutch housing market, which is one of the top issues in this week's election. According to I&O research, 86% of Dutch people believe there is a housing "crisis". Despite the government's aims to construct 900,000 homes by 2030, building is already behind schedule and there are 390,000 more house seekers than there are homes.
What are the figures?
According to the CBS, last year the Netherlands had just over eight million houses, around 4.5 million of them owner occupied (57%).  One in seven houses (14%) is a private rental and more than two million (29%) are rented out by housing corporations, and these are largely rent-controlled.
The IMF reports that house prices in the Netherlands rose the most of all countries in Europe during the pandemic (and have not corrected), while the country has Europe's highest average mortgage debt.
Meanwhile, the typical waiting time for a social home is seven years but can be as high as 19, according to NOS. Free market rents are spiralling. New proposals to extend rent controls mean some investors are selling, one landlords' organisation is claiming compensation in court and it's unclear if there will be more affordable rental prices up to €1,000 a month or fewer rentals and even higher prices.
What will politicians do about it?
Some political parties blame the way four Mark Rutte-led governments enthusiastically adopted "the market" instead of viewing housing provision as a core government duty, as it was after the war.
New rules came in to liberalise the sale of housing corporation stock in 2013 and two years later housing minister Stef Blok was drumming up investors at the Expo Real trade fair in Munich and saying there was "no reason to worry" about property speculation.
Even five years ago, the government was encouraging foreign investors and funds to step into the market, with a site "investing in Dutch housing". All the while, it had an extraordinary profit tax on housing corporations that is only now being scrapped.
Lilian Marijnissen, head of the Socialist Party, points out that housing corporations used to be called "house building corporations" and parties like Frans Timmermans' GroenLinks/PvdA believe in reviving the idea of public housing and a building fund.
Another question is where to build: Pieter Omtzigt's New Social Contract wants to develop the edge of cities, the BBB FarmerCitizenMovement wants to make bungalows in holiday parks legal residences and build in villages too. Rob Jetten's D66 liberal democrats talk about "a street extra" in communities.
The VVD, under Dilan Yeşilgöz-Zegerius wants to give tenants the right to buy their homes and keep mortgage interest relief, which is the highest in Europe and has for years been criticised for unnaturally pumping prices by the European Commission and DNB central bank. It's unclear how those two policies would help.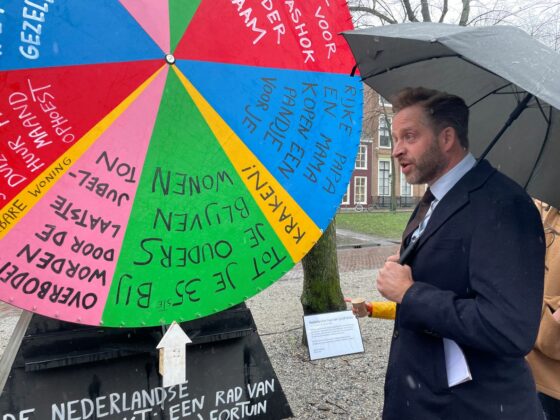 What do the experts say?
Making planning permission easier is the most important thing, as house building falls behind schedule due to slow and complex procedures, says the NVM estate agents organisation.
Chris van Zantwijk, vice chairman of its specialist group on new building, said: "It takes too much time before all procedures have been dealt with before building can commence. The lead time must be short so that buyers can see what they are getting into. This also applies to developers who then have more control over construction costs."
Maarten de Gruyter, chief executive of housing developer Boelens de Gruyter says municipalities are trying to build more sustainably, with extremely high quality architecture, more social housing and larger houses. But at a time of urgent housing need, with high interest rates and building costs, in his view there needs to be more pragmatism.
"We are in a perfect storm," he says. "Public housing might be an important theme in the elections but for the past 10 years it has been locally regulated. But their ambitions have piled up on top of each other…which makes far more costs, with a worse macro-economic situation. The margins are ever smaller and procedures get ever longer. But you can do something about the ambitions."
Affordable housing is key, according to Mathijs ten Broeke of the tenants' campaign group Woonbond, which calls for more rental controls while more property is built to solve the shortage.
"Especially in the mid-sector, we see that costs have risen enormously because of the scarcity," he said. "This needs to be regulated. The property sector argues that it will make it unprofitable to build, but we don't agree: their only interest is to make a profit. But we believe housing is not there to generate a profit but to live in."
Meanwhile the central bank characterises the main problems as "poor accessibility, risky borrowing behaviour, supply shortages and large unwarranted discrepancies between owning a home and renting one in the non-subsidised sector".
Together they add up to household debt that makes the country more economically vulnerable and "social dissatisfaction" at the unfairness of the situation: some people get a government subsidy to buy, the lowest incomes get housing benefits but 'middle' income tenants get nothing. House building plus removing the tax incentives to ownership are, it points out, the obvious solutions.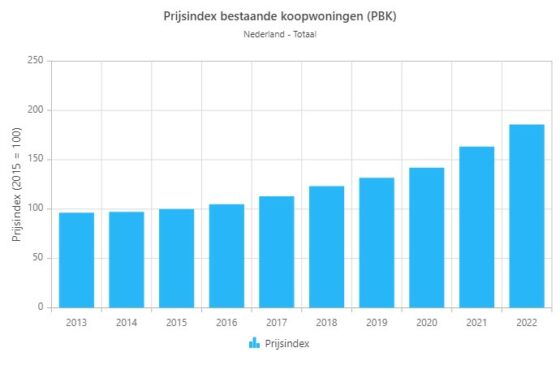 Is it the fault of immigration?
When asked about housing in a popular television debate last week,  Geert Wilders from the far right PVV said the priority was to "stop" immigration. According to the CBS Dutch statistics office, the Dutch population is growing as people are living longer but also through migration – with record net migration of more than 220,000 people arriving in 2022, around half fleeing war in Ukraine.
The population has grown by a million since 2014, largely through an increase in immigration. In one debate, Omtzigt blamed "expats with the 30% ruling", a tax incentive to fill scarce jobs, for "controlling" the market in Amsterdam. (Fact check: they represent 2% of houses).
There's clearly a debate to have about the levels of international students and seasonal workers – and who is responsible for housing them. Some political parties want a two-status system for asylum seekers to limit family reunification rights, as in other EU countries.
In a paper on the housing crisis, drawn up for Omtzigt, Delft University housing expert Peter Boelhouwer links increased migration to the housing shortage, which before 2015 was estimated at 2% to 2.5% of housing stock and is now 4.8%. Another reason is households getting smaller: the average people per home has dropped from 2.26 in 2006 to 2.12.
Boelhouwer suggests immigration could be looked at but also proposes market reform to make it just as beneficial to rent as to buy; regulating land prices; setting norms for low income groups; and taking central control. But, he points out, self-interest is a big problem. Most Dutch people, in other words, don't want to acknowledge that they – and their home's tax perks – are part of the problem too.
Tulip fever 2.0?
"People who don't yet have a foot in the housing market are the ones who fall out of the boat," according to Lennart Rhee, house market expert at property valuation company Calcasa. "House prices have doubled on average since 2013 – which is not a very healthy development and historically has never happened before. There was no better job than just having a house in the last 10 years."
But there are hidden risks even for people with a house, points out the AFM financial services watchdog. Earlier this month it warned some houses are overpriced because expensive and uninsurable risks like propensity to flooding and sinking foundations are being ignored. Juriaan Dijkgraaf, AFM policy advisor, wants obligatory measurements as part of a climate label – like an energy label – to warn housebuyers about future costs.
"Banks like the European Central Bank (ECB) are conducting climate stress tests and in their portfolios are all these houses and mortgages," he says. "The world is changing, this has an effect on water levels, longer and extremer periods of rainfall and drought and in the Netherlands, it could lead to foundation and flooding risks.
"People live in these houses and in the end, the individuals have to pay. Right now, these risks are not insured and from an economic perspective you would want it to be factored into the price of the house – and they are not, because people are unaware of them."
Maximising debt
People have been incentivised to maximise their debt even if it actually means paying more in the long term (despite the tax break) and needing a higher pension, said Fred de Jong, a financial expert at the University of Amsterdam.
"The tax incentives don't stimulate paying down debt," he said. "There are few parties calling to scrap the mortgage interest relief because it's a very sensitive subject in the Netherlands. The housing market is under pressure, starters can't find a house, there's a housing shortage, but if you propose scrapping it – which would probably be a very good measure – it doesn't feel good for the voter emotionally."
To Mauk Bresser it's obvious that as well as building houses, the next government needs to take a hard look at why it stimulates home owning and disadvantages a generation of students.
"Say you've got a student loan like mine, you want to buy a house and the bank says you can't get a mortgage costing €950 a month because you can't pay," he says. "What's the effect? You have to rent for €1,400 a month. It really is very strange."